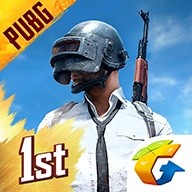 BETA PUBG MOBILE
Descrizione
BETA PUBG MOBILE Android Game
The official BETA version of PUBG
PUBG MOBILE BETA is the beta version of PLAYERUNKNOWN'S BATTLEGROUNDS (PUBG). The main difference between this and the official version is that here, you get a sneak peek at the game's latest features before anyone else. Of course, you'll have to sacrifice a certain level of stability, but that's to be expected.
In the game, you get to participate in a 100-person Battle Royale against other online players. You're in a closed-in map where only one player can be left standing at the end. In order to play, you'll need to move around each setting to gather the resources you need to win -- including weapons, and much more. But that's not all. The map gets smaller and smaller with each passing minute.
In addition to the standard game mode, in PUBG MOBILE BETA you'll find various additional modes, including a 4-on-4 'team deathmatch,' a mode where you fight against hordes of zombies, and a mode that's all about driving different vehicles. And of course, all these game modes are available on this beta version first.
You can also customize the level of graphic detail using the settings menu. This means you can adjust your experience to best fit your smartphone's capabilities. Plus, you can customize the controls for when you're driving or hiking around on foot.
PUBG MOBILE BETA is a fantastic adaptation of the original PLAYERUNKNOWN'S BATTLEGROUNDS. You get to enjoy hours of play in several modes that, in many cases, haven't even reached the stable version. As an added bonus, if you choose the team option, you get to live chat with your buddies in-game to coordinate your moves, via your smartphone's microphone.
By Beatriz Escalante
The 0.12.0 PUBG Mobile latest upgrade arrives today
The latest PUBG Mobile 0.12 upgrade is about to come out fresh out of the oven. After their incredibly successful collaboration with Capcom Resident Evil 2, which was released this past month February , the survival modes have been strengthened and other related game modes have been added as a way to help you face the unending mobs of zombies. And let's not forget about the other bunch of smaller changes that have been included. The official launching date is set for April 17th, so it'll be automatically unlocked at some point during the day. The upgrade is already available but you can't see the latest news as of yet.
You can now also download the beta version of PUBG Mobile for Android
There's just one problem with the international version of PUBG Mobile for Android: the international version of the game is always months behind the Asian edition in terms of game updates. In fact, many players choose to play the Asian version just for that reason. Fortunately, Tencent and Blue Studio seem to have taken note of this fact and have just released a new beta channel that greatly shortens the time between one release and the other. Now we finally get the chance to try out the latest features without the language barrier standing in our way.
Info
Info
Valutazioni &

Recensioni

(0)
Riepilogo della recensione
Al momento non ci sono recensioni per questo gioco
Invia il tuo commento
Registra Registra un account PHONEKY per pubblicare recensioni con il tuo nome, caricare e archiviare le tue app mobili preferite, giochi, suonerie & sfondi.
Registrati o Accedi a PHONEKY


Potrebbe piacerti anche:
Il servizio di giochi Android è fornito da PHONEKY ed è gratuito al 100%!
I giochi possono essere scaricati da Samsung, Huawei, Oppo, Vivo, LG, Xiaomi, Lenovo, ZTE e altri telefoni cellulari con sistema operativo Android.
Informazioni sulla pagina:
Scarica il gioco BETA PUBG MOBILE per i cellulari Android - uno dei migliori giochi Android gratis! Presso il PHONEKY Android Games Market, puoi scaricare gratuitamente i giochi per cellulare per qualsiasi telefono o tablet. Una grafica piacevole e un gameplay avvincente ti faranno divertire per molto tempo. Su PHONEKY troverai molti altri giochi e app di generi diversi, dall'avventura e l'azione alla logica e ai giochi di apk Android. Scarica giochi e app Android gratis sul tuo telefono cellulare, tablet o computer. Per vedere i migliori 10 migliori giochi per Android, ordina i giochi per popolarità.
OK